Used Boats:
227
Adverts Displaying:
21
-
30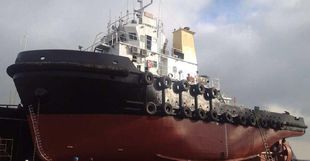 This vessel launched in 2014 and available for prompt delivery LOA 36.1m x 10.6m x 4m. In BKI Greater Coastal Classification. Powered by twin G6300ZC18B / 19B engines with CPP.. The vessel has been maintained but never used commercially. Located in China and available for inspection by appointment. Selling at very good price $USD1.4m Please feel free to contact us should you have further questions....
read more
Year:
2014
Length:
36.1m
Location:
China
Price:
$1,400,000

View Details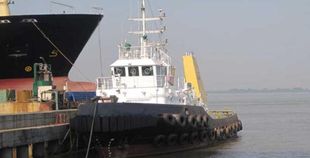 This vessel is available for competition within 5- 6 months from signing MOA. LOA 29.1m x 9m x 4.25m in ABS Navigation unrestricted Classification. Powered by twin Cummins KTA38-M2 (1200hpea) engines. Bollard pull 30t. Endurance aprox 15 days, 3500nm. Sistership pictures shown. Inspection is available in China by appointment. Price is very competitive at $USD1.95m Please feel free to contact us for further details....
read more
Year:
2018
Length:
29.1m
Location:
China
Price:
$1,950,000

View Details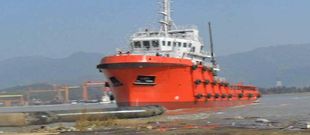 This new build can be completed ready for delivery in two months from MOA. LOA 59.72m x 14.95m x 5mtr. Powered by 2 GN8320-2B/3B 2500kw ea. 2 x Cummins aux 400kva. Bollard pill 80.3t. Deck cargo area 330m² with load capacity 850t. Fitted with bow and stern thruster. The vessel is complete ready for final survey and can be ready for delivery around 2 months after signing of contract. Inspection in China is available by appointment. Priced very well for new build at $USD4.35m For further details, please feel free to contact us....
read more
Year:
2018
Length:
59.2m
Location:
China
Price:
$4,350,000

View Details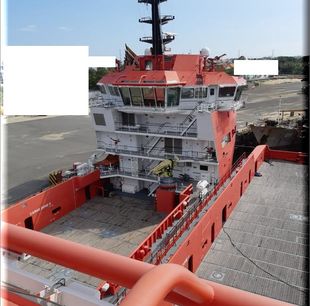 Three sisterships available from owner direct shipyard. Built to high quality under Lloyds Classification. New build vessels ready for delivery. The vessels measure 80mts x 16.2mtrs with service draft of 5 mtrs. Classification- Lloyds 100 A1 Offshore Supply Ship, SG28(Mud Tanks), ECO (IHM,OW,P), WDL, LMC, UMS, DP (AA), Fire Fighting Ship 1, *IWS,IBS,NAV-1, CAC 3 with descriptive notes, Green Passport and Prepared for Oil Recovery. 2 x150kW Azumith Thrusters with 2 x 735kW Tunnel Thrusters. Power plant is 2 x Caterpillar C3512 C TA HD 1424bkW and 2 x Caterpillar C32 TTA, 994bkW engines. D...
read more
These two RSV's are equipped for world-wide operations in the oil and gas sector on ultra- deep water projects as well as in the offshore wind sector. These and all other vessel machinery are controlled by a fully integrated vessel management and control system. The vessel is dynamically positioned with the dual notation of DYNPOS AUTR (DP2) and DYNPOS E (Enhanced Reliability). DYNPOS E notation, with its increased inherent redundancy and monitoring capability, will allow the vessel to operate more economically and will provide a notable reduction in fuel consumption on DP, which comb...
read more

This vessel can be ready for delivery within one month, direct from shipyard. Priced to sell. The vessel is classed BV+1+HULL MACH A2. LOA 15.5mtrs x 4.4mtrs x a shallow 1.05m draft. Powered by twin 238kw Deutz (Germant) engines with cruise speed of 18 knots. Passenger capacity for 20 in airconditioned cabin. Inspection in the Chinese Shipyard is available by appointment. Priced very competitive....
read more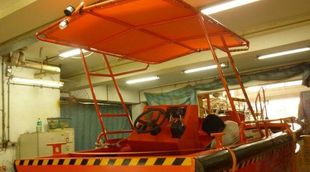 Principal Dimensions: Hull Length = 18.37Ft (5.60m) Beam = 6.36Ft (1.94m) Weight = 900 kg Power (Rec.) = Yamaha 33hp Marine Diesel Engine with Sterndrive Engine Model = Yamaha ME130SM + MU1A Fuel Tank Capacity = 80 litres Material = Marine Grade Aluminium Alloy (5083H321) Hull Thickness = 3 mm thick Deck = Approx 2 ft Construction Class = Non-classed Standard Configuration 1) Multiple Chambers construction, Unsinkable 6" D Fender. 2) Marine Grade Aluminium Alloy Construction 3) Multiple Transverse & Longitudinal Frame Reinforcemen...
read more
Year:
2015
Length:
18'
Location:
Singapore Singapore

View Details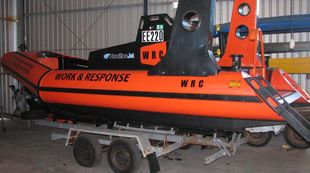 Ideal for rescue/tender etc Brand new Yanmar 200 hp diesel with new Hamilton Jet, both with eleven hours. She is constructed from Polyethylene PE is impervious to corrosion and electrolysis, also UV stable and impact resistant. She is built to USL specifications with an 800kg Bollard pull. Heinriekson quick release hook is platform ready and includes all safety equipment icluding fire flaps and fire suppression system. She is also self righting and mercury cut off switch to SOLAS class to avoid engine damage. On a trailer and custom poly cradle is also available. A very dur...
read more
Length:
6.5m
Location:
Western Australia Australia
Price:
$195,000

View Details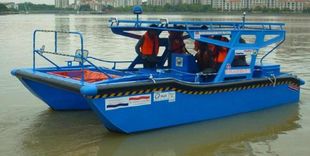 1) The sleek and upmarket design and look of the Scavenger 18 makes it an unobstrusive workboat silently working at any worldclass marina or waterside residential areas. 2) It is in operation worldwide in canals, and upscale marinas for the easy cleaning and collection of floating rubbish, seaweeds, plastic bottles etc. Motorised Rotating Stainless Steel Bascule Filter Cage makes clearing floatsam effortless. The rotating basket can pickup 20kg per load and the boat has a total load capacity of 250kg of floatsam. 3) The Scavenger 18 is also easy to maneuver,Not Require any fuel using the...
read more
Year:
2015
Length:
18'
Location:
Singapore Singapore
Price:
SGD 140,000

View Details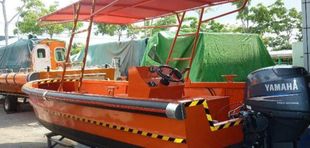 Looking for a small and extremely tough boat that is both practical, safe and reliable, the 18 Workboat is for you. The 3mm thick aluminium hull with double bottom foam filled construction makes this boat virtually unsinkable even when completely flooded. The open cockpit designs has several variations to cater to different needs and uses. It also has a self draining cockpit that will drain water naturally and quickly. No electrical bilge pumps are required which makes the boat easy to maintain. Hull Length 18ft (5.39m) Beam 6ft 0ins (1.82m) Weight Approx 350 kg Recommended Powe...
read more